Hey guys,
It's that time again
. Well, maybe not quite but I want to give myself some time to get it all put together before the holidays. Make your car famous--all you need to do is send me a couple of high resolution pictures of your '60 olds
. Last year I had a few more submissions that would fit in a 12 month calendar, and I'd really like to get everyone in who didn't make it last year...and even if you did make it in, please send me some new pics! You very well might make it in again... I had a couple of folks ask for tips on getting the best pictures of their car, so I thought I'd post a few tips here for everyone...
Locations
: There's an old saying in photography...background, background, background
. If you want to shoot with some sort of scenery around you, simple backgrounds work best--a lot of "stuff" in the background can be distracting. Also watch for telephone poles and other things "growing" out of the top of your car. Big open area work really well because they concentrate the viewers attention on the car.
Urban locations can work really well too..."old" places work great with old cars. Parked by an old diner, A&W, that sort of thing...even old brick buildings downtown. It's okay to have things going on in the background, as long as they compliment the scene. If you have an old stretch of blacktop that's rarely traveled, go out and give that a shot... Rolling shots
can
work really well, but the best results are usually achieved by an experienced photographer. You can experiment with panning and different shutter speeds to see what looks good... An image stabilized lens can work wonders here.
Best time to shoot:
Cars usually look best either early in the morning, or right as the sun is going down... The light you get right after the sun goes over the horizon is a sort of magic on big reflective things like cars. The down side is you only have about 20 minutes of usable light. If you use your camera in "automatic" mode, it will probably overexpose the scene a bit too, but I can help correct that later if need be. High noon on a sunny day is usually the worst time to shoot. Partly cloudy (when the sun is behind a cloud) or overcast days also work well. Shooting in direct sun is hard...the shadows are really harsh, the sun can make hot spots where it reflects off the car, and the whole scene will usually exceed the dynamic range of the camera so the sky is usually really blown out, etc. It can work, but it's usually just easier to pick a cloudy day or wait until evening.
Frame the scene:
Lots of different angles can look really good... The classic "calendar" shot is a 3/4 view, like this: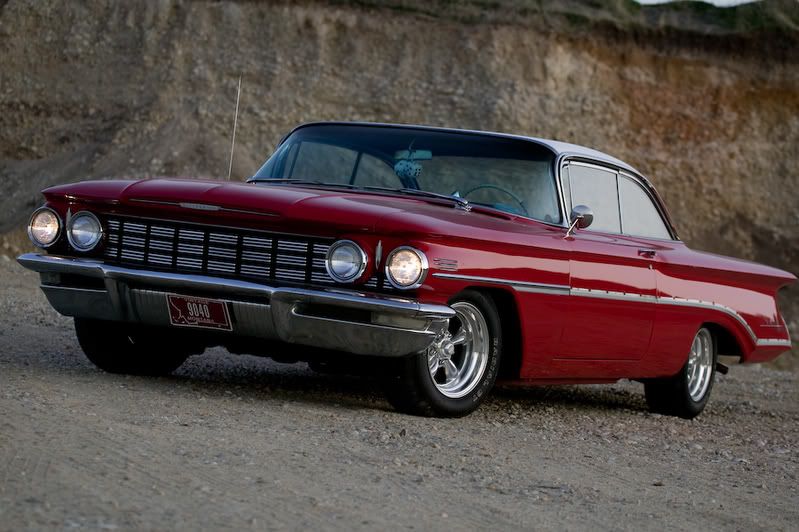 A few things to notice: The wheels are turned to the right...you want to see the wheels, not the tires. There's a slight tilt to the frame, which can look good--just don't overdo it. Extreme tilts are distracting. This frame is actually cropped a little on the tight side...all of the car is in the frame, but just barely. This is a big one--make sure all of the car is in the frame. There were a couple of pics I got last year that I sat there going "This is a great shot, but they chopped the end of the car off!!! ARRRRRRGGGG!" Give the car plenty of room...I can always crop it tighter. Can't add parts that aren't there though though
. You can also try a 3/4 view from behind. Feel free to experiment and send me lots of pics
. Also, avoid shooting from eye level...that's almost always too high. The best angles are usually either lower (I was down on my knees for the shot above), or get waaaay up high on it (like on a ladder). We spend all day seeing things at eye level, and our brains like to see angles that we don't normally see.
File Size:
BIGGER IS BETTER!!! Seriously, you can't send me a file that's too big when it comes to these pics. Shoot either in RAW format (if you're a camera geek) or on the largest, best quality jpeg that your camera will shoot. The bigger the file, the better the quality when it's printed. I can blow pictures up, but that only goes so far...particularly when they're small to start with.
Other tips:
It's common sense, but detail the car before you shoot. Or at least give it a good wash. Make the tires shiny. If you have a hardtop or sedan, they are usually shot with the windows up...although a hardtop can look good with windows down. Convertibles can either have top up or down, but usually look best top down. Or, shoot both. Turning the headlights on helps give the car a sense of "life". Just be sure you don't take so long you kill the battery and strand yourself
.
If you have any other questions or suggestions, just let me know. I'll be sending an e-mail before too long asking for submissions, but you can send them anytime to
olds@1960oldsmobile.com
.
Cheers,
Scott